Medicare Part A Hospital Insurance
Medicare is a complex service, split into four distinct categories known as Parts A, B, C, and D. Together, Medicare Parts A and B are known as Original Medicare. Each distinction is defined by its specific coverage areas and unique accommodations. Understanding the characteristics of each Medicare part is crucial for making informed decisions. Medicare Part A covers the services listed below.  
Inpatient hospital care:

 May include semi-private rooms, meals, nursing services, and prescription drugs needed for your treatment. Medicare Part A hospital coverage may include inpatient care you receive in long-term care hospitals, inpatient mental health hospitals, acute care hospitals, and critical access hospitals.

Skilled nursing facility care:

 May include semi-private rooms, meals, skilled nursing care, prescription medications, medical supplies and equipment, and ambulance transportation (if medically necessary). You may be covered if your doctor has decided that daily skilled nursing care is medically necessary.

Nursing Home Care:

 This care may be covered for a limited portion of time if deemed medically necessary. Medicare Part A only covers nursing care if skilled care is needed for your condition, per a doctor's instructions. You must require more than just custodial care (help with daily living tasks, such as bathing, dressing, etc.) to be deemed medically reliant for such care.

Hospice Care:

 May include doctor services, nursing care, durable medical equipment, medical supplies, and other services if you are terminally ill and your doctor has determined that you have six months or less to live.

Home Health Services:

 May include at-home skilled nursing care, physical therapy, occupational therapy, and other services for a limited period when intermittent skilled nursing care or therapeutic services are deemed medically necessary. Medicare Part A may cover part-time home health care if you are homebound and you get these services through a Medicare-certified home health agency.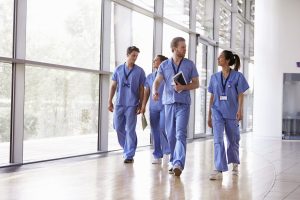 What are my Medicare Part A costs?
Many people are eligible to receive Medicare Part A without a premium if they or their spouse have worked the required amount of time under Medicare-covered employment, generally ten years or 40 quarters and paid Medicare taxes while working (see below for more information). However, your Part A coverage may still include other costs, even after Medicare has paid its share. This may include deductibles, copayments, and coinsurance, which can all change from year to year. Your costs may depend on the type of service you are receiving and how often.
Medicare Part A cost-sharing amounts (for 2023) are listed below. (A benefit period is considered to be from January 1st thru December 31st of each year).
Inpatient Hospital Care:
Medicare Part A deductible: $1,600 for each benefit period

Medicare Part A coinsurance: $0 coinsurance for the first 60 days of each benefit period

$400 a day for the 61st to 90th days of each benefit period

$800 a day for days 91 and beyond per each lifetime reserve day of each benefit period (you get up to 60 lifetime reserve days)

After lifetime reserve days are used up: You are responsible for all the costs
Skilled Nursing Facility Care:
$0 for days 1 to 20 for each benefit period

$200 a day for the 21st to 100th days (skilled nursing facility coinsurance of each benefit period)

Days 101 and beyond: You are responsible for all the costs
Did you know that some Medicare Advantage plans and Medicare Supplement plans might offer additional services beyond Medicare Part B? For example, some Medicare Advantage plans include benefits like wellness programs and routine vision and dental benefits. Medicare Parts A and B do not typically cover these supplementary benefits. Contact us today to learn more about Medicare Plans!