Group Health Insurance and Supplemental Benefits
Healthcare American is a full-service employee benefits firm. We concentrate on the design, funding, communication, enrollment, administration (through our 3rd-party administrators) and overall management of group benefit plans for the small to the mid-sized employer. We do this by implementing an enrollment platform, designed to take the workload off busy human resources departments, leaving them with an enrollment and enrollee management platform that is clear, user-friendly, and will encompass all the benefits offered, on one platform. This platform will enable employers to understand better the costs of the benefits provided and assist with payroll. This focus allows us to thoroughly understand our clients' businesses and their objectives, thereby enabling us to develop innovative benefit programs to meet their specific requirements.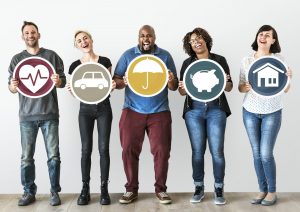 Group Health Plans
Insurance brokers generally get their health quotes from a handful of administrators in each state. These administrators are licensed with most (if not all) of the insurance companies, that are available in the state. The administrators are the ones who administer billing and enrollment. The insurance company that you choose, in the form of commissions, ultimately pays the administrator and the broker. You cannot save money by circumventing the broker or the administrator. You will pay the same premiums to the insurance carrier, either way, so all it comes down to is the question of the service you receive.
While we cannot affect the premium you are paying for a specific plan, we can make sure you have the right plan for your employees. Many brokers operate "inside the box" and set you up with a health plan with minimal thought in the process. When you went through your last renewal, did you review partially self-funded plans, layered plans, or just the same old plans?
Types of Plans Offered
Group hospital/surgical plans and individual hospital/surgical plans

Group dental insurance

Group Disability Plans

Group Life Plans

Voluntary Benefits
If you are not receiving the service you deserve from your current enrollment brokerage, then give us a call. You can assign us to your existing package of benefits, or we can help you find a broker from our network. We can ensure that your coverage is working best for your employees, and build an advantageous benefits system, that you, as the business owner, can be proud to offer your employees.
Even if you just went through your open enrollment plan, you do not need to wait. We can take over right away, and ensure your employees are covered when a potential insurance covered loss takes place.